Work & Study
A Place to Learn and Study
The Chemistry | Biology | Pharmacy Information Center is not only a virtual library dedicated to teaching, but also a place where you can learn and study.
Workplaces and Learning Spaces
In the Information Center you will find over 200 work spaces on three floors, including 4 PC workstations. All work spaces are equipped with sockets. There is also a lounge area on the H floor with comfortable sofas, see Read & Relax.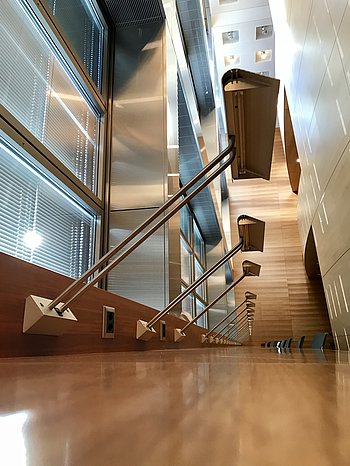 In our public library rooms you have a total of 4 computers with Internet access at your disposal, which are primarily intended for your literature and scientific research and grant you access to a large number of scientific databases. Two of the computers require an ETH Zurich login, Microsoft Office is installed on these computers and ChemDraw is installed on one of them. At the other computers also guests can access online resources.
At HCI and HIT you can find other computer rooms maintained by ETH Zurich Informatikdienste. They may be reserved at certain times or may only be accessible to certain groups of students:
HCI D 451: Windows and Linux
HCI D 267.4: Linux
HIT F 21: Linux
HIT G 41.2: Windows and Linux
HCI H 474: Windows, for students of pharmacy
HCI G 174: Windows und Linux, only for chemical engineers
An overview of all computer workspaces at ETH Zurich can be found here.
Please note that the use of hardware and software is subject to the Telematics Regulations at ETH Zurich.
Would you like to have your own room for group work? Five group rooms equipped with flipcharts are available for students of the departments D-CHAB, D-BIOL and D-MATL on the J floor in the Information Center. If you would like to use the group rooms during the semester break, you can reserve them in advance, usually immediately before the start of the semester break. Please note the information on the info display, on this website and on our social media channels. In addition, there is a sixth group room which cannot be reserved.
Would you like to use your own mobile devices (laptop, tablet, smartphone) in the Information Center?
No problem, all public rooms of the Information Center are equipped with Wireless LAN, which is maintained by the ETH Zurich IT Services. The use of the "eduroam" network is recommended as it can then be used without further action at many universities around the world.
Several services provided at the ETH Zurich require the installation of VPN software, especially if you access services from your computer at home. Information and directions how to install the software can be found here.
If you have any questions when using the ETH Wifi and the installation of VPN software please contact the Servicedesk of ETH Zurich IT Services.
Training and Seminar Room
With the seminar room HCI G2, the Information Center has a training room with modern technology at its disposal, which can be used by students as an additional study location, especially during the semester break.