The first point of contact for all visitors of the Chemistry | Biology | Pharmacy Information Center is the Infodesk. Here your questions will be answered or you will be referred to Information Consultants. The Infodesk can be contacted by telephone (+41 44 632 30 66) or at infodesk@chem.ethz.ch
The Infodesk is also the place where you can borrow and return your books or pick up books you have ordered.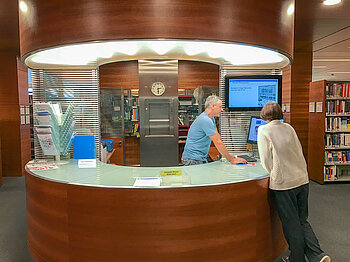 Document Retrieval and Self-Order Options
Please contact the Infodesk if you can neither download nor otherwise find and order the specialized information or reference you are looking for online. We will help and order for you or show you how you can find what you are looking for.
For the safe storage of your other belongings there are 146 lockers (the deposit is a 2 CHF coin – if you need change please contact the Infodesk). Lockers are placed on the G floor, both in the entrance and outside in the lobby to the right and left of the entrance. Almost all of the lockers have power plugs so you can charge your mobile devices. You need to clear the lockers that are located within the library in the evening when the Information Center closes.
Would you like to reserve a locker for the entire semester or semester break? This is possible for lockers in the lobby. Please watch for the reservation schedule, which will be announced at the end of the semester or semester break via Facebook, the Info Center Display and our website. The deposit for the key is 50 CHF. You can find the form here.
Larger objects such as musical instruments can be deposited at the Infodesk.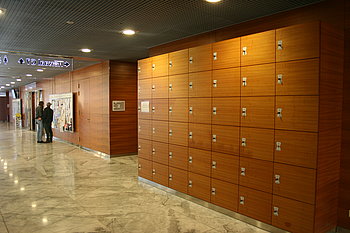 Would you like to work as a group? Five flipchart equipped group rooms are available for students of the departments D-CHAB, D-BIOL and D-MATL on the J floor in the Information Center. These can be reserved at the Infodesk. If you would like to use the group rooms during the semester break, you can reserve them in advance, usually immediately before the start of the semester break. Please note the information on the info display, on this website and on our social media channels. In addition, there is a sixth group workroom, which cannot be reserved.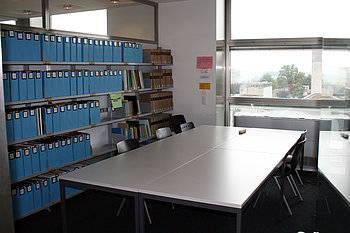 Have you lost your key, left your mobile phone? Do you miss your charger?
Whatever you miss: Contact us at the Infodesk and/or the Info + Service Center (ISC) in HIL D 25.1.
Lost and found objects are collected at both locations – it's worth asking!