Education & Training
Services
Especially in chemistry and life sciences, there are countless information resources – databases as well as tools – that can help to find the right information quickly and easily.
With the dynamic modules databases and tools, we try to make it easy for you to select the right database or tool through appropriate filtering options and an intuitive search for your particular question.
This is complemented by a unique, modular awareness & training concept developed by the Information Center to help students and scientists critically reflect on the use of information solutions.
With our magazine Infozine, the Infozine Special Issues and the newsletter Infocus, which is tailored to your individual needs, we inform you about new information solutions and how you can integrate them into your work processes.
However, we also personally communicate the appropriate use of the various information solutions in various formats. These include Coffee Lectures, the Research Group Menu Card seminars, lectures for bachelor students, lectures for master students, lectures for doctoral students, and other activities described in more detail under Teaching.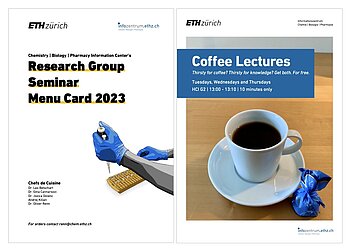 Publishers often offer high-quality trainings, mostly through webinars done over the internet (sometimes additional software needs to be installed to be able to view the presentation) and through a toll free phone number. Topics and dates of webinars can also be found in our Event Calendar. If needed, we may also run webinars in our training room G2 for a larger audience.